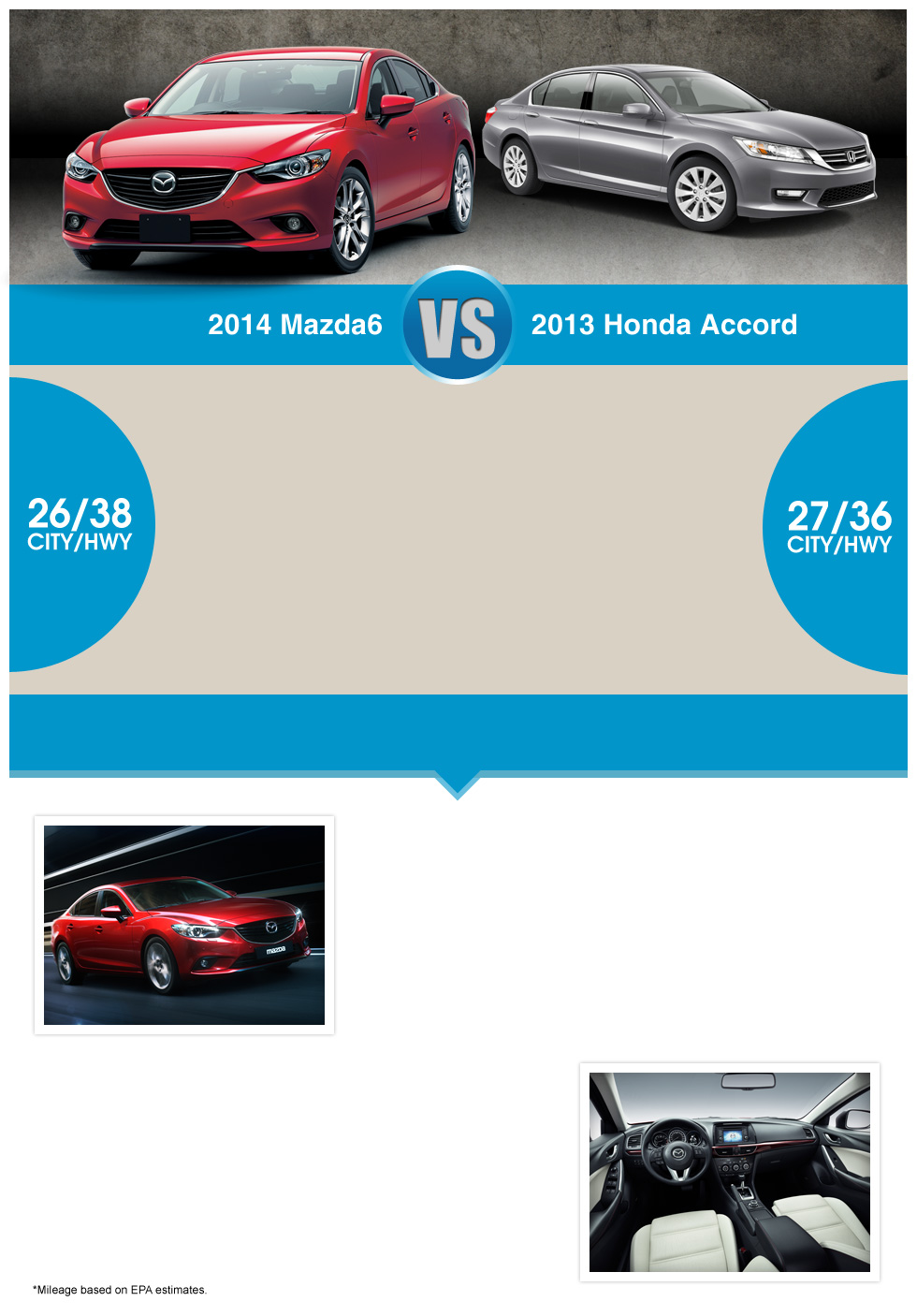 Okay, maybe it's a little unfair to compare the 2014 Mazda6 to anything, but what fun would a vehicle be if it was completely unchallenged? The 2014 Mazda6 is the automaker's latest, most innovative addition, and drivers are amped about getting a taste of the sports sedan's power, efficiency, and unmatched technology. Equipped with the full suite of SKYACTIV Technology, the Mazda6 is completely unique to other vehicles in its class. The 2.5L SKYACTIV-G gasoline engine earns the vehicle up to an unprecedented EPA-estimated 38 mpg hwy while churning out 184 horsepower and 185 lb-ft of torque. The Mazda6 was also optimized to consume 15 percent less fuel and produce 15 percent fewer emissions. The all-new sports sedan also debuts its incredible i-ELOOP regenerative braking technology, making this sporty vehicle strong for more than just its muscles.
The 2013 Honda Accord is the perfect competitor for the 2014 Mazda6 due to its luxurious styling and dedication to providing a much more efficient ride. The vehicle offers a couple of impressive powertrain options, but its 185-horsepower 2.4L Earth Dreams DOHC i-VTEC engine, when paired with the upgraded Continuously Variable Transmission (CVT), earns the Accord up to an EPA-estimated 36 mpg hwy. Its Active Noise Cancellation technology provides an even more comfortable ride, and its suspension provides a more agile performance, but let's be honest - can a vehicle really compete with SKYACTIV Technology, i-ELOOP regenerative braking technology, or pure Mazda innovation?
2014 Mazda6

The 2014 Mazda6 wasn't just built for looks, it was designed with a philosophy to move even better on the road. Known as the KODO or "soul of motion" language, Mazda's design philosophy shows its dedication to a balance of aerodynamics, power, sleekness and innovation. Every line and curve on the Mazda6 was created for a bigger purpose, which is to perform better and more efficiently. The vehicle's impeccable styling contributes to its class-leading low drag coefficient, which allows it to fly through the air with nearly zero resistance.
Inside the sleek cabin is luxe leather-trimmed upholstery and available heated sport seats. With the ability to fit exactly to the passengers' bodies, the seats make each moment in the Mazda6 customizable and comfortable. Also available is the Bose Centerpoint Surround Sound System with AudioPilot noise compensation technology, Mazda-integrated TomTom Navigation, and available connectivity for HD Radio, Pandora Internet Radio, and SiriusXM Satellite Radio. Drivers can also take advantage of the all-new available Commander Switch, which gives the driver access to all of the above plus Bluetooth phone connectivity.
What really sets the Mazda6 apart from its competition is its all-new i-ELOOP regenerative braking technology. The system stores the kinetic energy lost during braking and transfers it to a capacitor. This is where the energy gets dispersed and recycled into different parts of the vehicle that require extra energy. This ultimately improves the overall fuel economy and saves the engine from excess stress. That paired with SKYACTIV Technology results in a more efficient, waste-free drive.
The Mazda6 is built with the SKYACTIV-Body and -Chassis, both of which were made to provide ultimate protection on the road. The use of "Triple H" construction, high-strength steel reinforcements, side-impact door beams and reinforced spot welds, the Mazda6 is stronger without gaining any added weight. This vehicle not only looks better than ever before, it also performs like a dream and offers everything you could want from a sports sedan without breaking the bank. Is there really even a doubt in the competition between the 2014 Mazda6 vs 2013 Honda Accord?