When things seem too good to be true, they usually are - but not in the 2014 Mazda6 in San Antonio TX. The artistry put into the Zoom-Zoom expert's latest model is distinct from any other vehicle in its class. Mazda innovation and engineering elevated the Mazda6 from a trustworthy vehicle to a designer's dream. Completely reimagined to encompass the Mazda KODO, "soul of motion," design philosophy, the all-new Mazda6 balances the performance of an athletic car with the elegance of a luxury vehicle. To find out where an intense driving experience and full-bodied innovation coexist, look no further than the 2014 Mazda6 San Antonio.
2014 Mazda6 in San Antonio TX
The all-new sports sedan, 2014 Mazda6 in San Antonio, has been one of the most highly-anticipated vehicles in the auto industry as of late. Adorned with the Mazda badge, the Mazda6 was built to live up to its automaker's performance reputation. Equipped with the latest series of Mazda's fuel-saving SKYACTIV Technology, the Mazda6 packs in a 2.5-liter SKYACTIV-G engine and either a 6-speed SKYACTIV-MT manual or a 6-speed SKYACTIV-Drive Sport automatic transmission. When brought together, the sports sedan's powertrain elements deliver unmatched performance power without risking a reduction in fuel efficiency. For the drivers who aren't satisfied yet, the all-new Mazda6 will also be outfitted with i-ELOOP regenerative braking technology, which will capture and reuse the power lost during braking and repurpose it to power the engine and other vehicle processes. This will make for an even more efficient Mazda that utilizes every ounce of power it creates.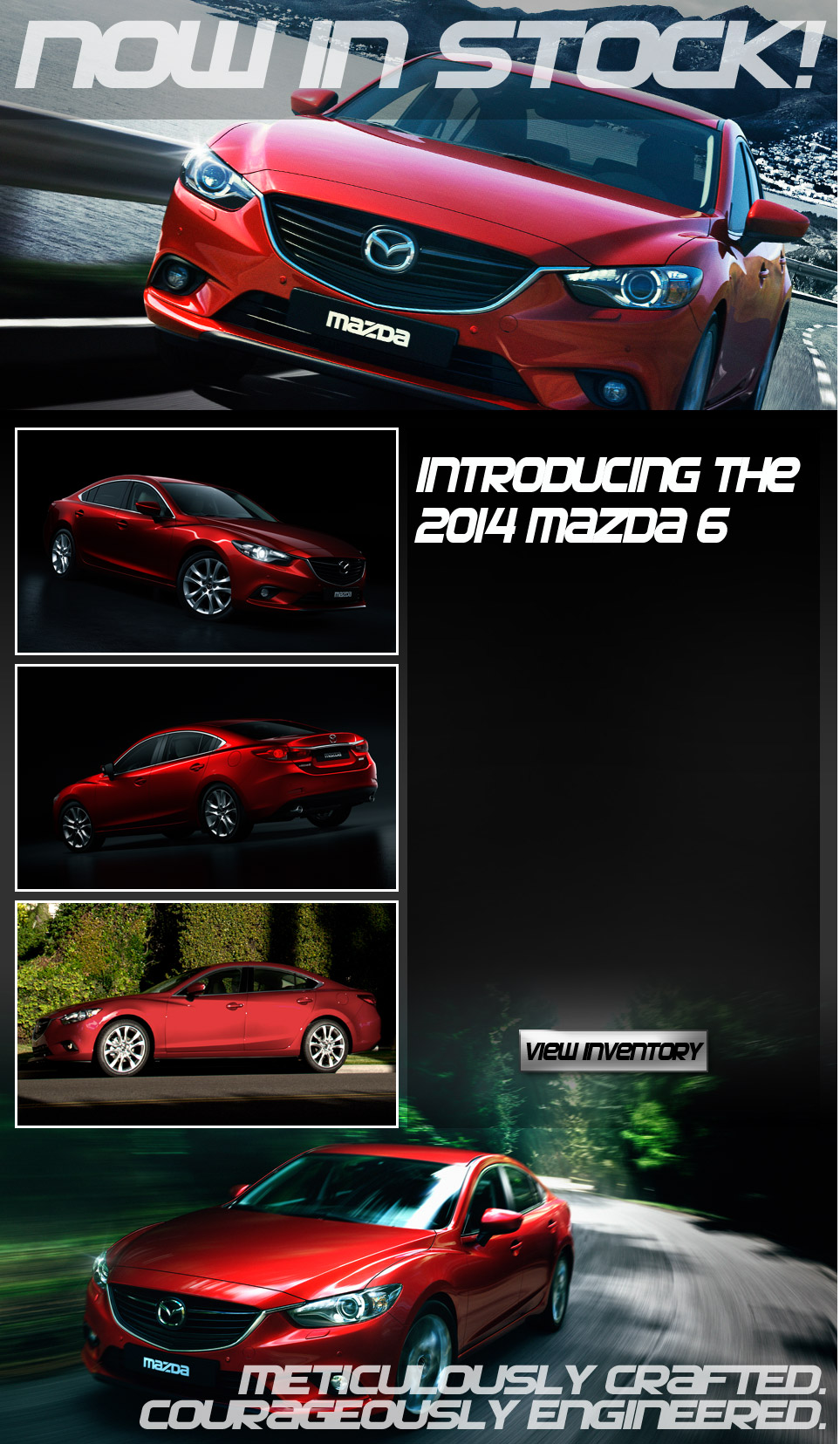 Diesel Makes a Comeback in New Mazda in San Antonio TX

Part of Mazda's design philosophy is to never stop growing, never stop innovating, and never stop wanting more. As if SKYACTIV wasn't enough, the automaker has been finding a way to make use of a former engine forerunner. Extensively tested and redesigned, the SKYACTIV-D clean diesel engine is one of the car brand's latest projects. After optimizing combustion timing and increasing fuel efficiency, Mazda was able to build a 2.2-liter diesel engine, which lowers soot creation and reduces both engine weight and friction. As a result, the engine gives the Mazda6 the power of a sports car with the efficiency and minimal carbon footprint of a hybrid car. Instead of falling victim to expensive treatments and lackluster performance, Mazda decided to make use of a resource that can be just as clean but significantly more useful.

Suspension and Pure Mazda Safety

The Mazda6 was built on a solid foundation that provides agility and responsiveness unlike any of its competitors. Independent rear multilink suspension allows the vehicle to achieve unmatched flexibility and stability on the road, especially when it's combined with independent MacPherson strut front suspension and secure stabilizer bars. The vehicle's intuitive body frame connects seamlessly with the movement of the vehicle, so any turn, curve, or incline is handled beautifully and with ease. Daredevils and worriers alike can enjoy the thrill and control that is the 2014 Mazda6. Smart safety technology has been implemented to provide drivers with a performance they can really trust. Features like available Rear Cross Traffic Alert, which informs drivers of vehicles or pedestrians near the vehicle's rear end, Smart City Brake Support, which applies brake force in the event of a potential collision, and Blind Spot Monitoring, which alerts drivers of objects in the vehicle's blind spots, keep passengers engaged and drivers focused on the road. The sports sedan's advanced technology offers the mental security and physical solidity drivers need when they're traveling behind the wheel. Inclement weather and distracted drivers are no match for the 2014 Mazda6 in San Antonio.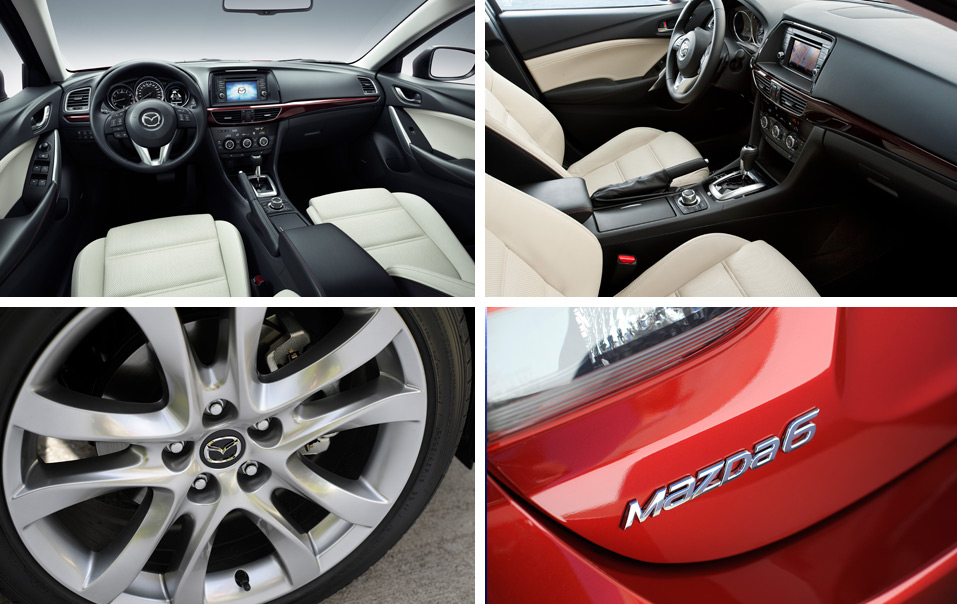 Commanding Interior Capability
A notoriously detail-oriented automaker, Mazda expectedly left no stone unturned when it came to the 2014 Mazda6 in San Antonio. The vehicle's luxurious interior is well dressed with leather accents and chrome detailing. Soft-touch upholstery and rich craftsmanship surround each passenger and provide a quieter, more relaxing ride. Each line from the Mazda6's exterior is connected to the curves found within the sedan. With the comfortable feeling of being at home, Mazda created a driver's seat built for royalty. With the newly implemented HMI Command module, drivers have their favorite music, navigation capability, and hands-free phone connectivity on hand, even when on the move. Optional heated seats are an added touch of sophistication and luxury. Designed to fit each passenger's body shape, the seats are flexible and dynamic for a more comfortable, customized ride. The security and firmness of the 2014 Mazda6 interior is unique, inviting, and unmistakably Mazda.